Last update: April 26, 2020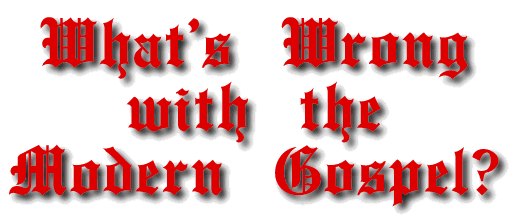 Back in 1981, an article was written, entitled, What's Wrong with the Gospel ? ** by Keith Green of Last Days Ministries. Since the time of Keith Green, we have watched the number of independent churches grow, as awakening souls have sought to start something new, in hopes that THEY could restore what was missing from the modern church.
But now in the 21st century, we have an even greater number of churches out there, most preaching themes and variations of the same watered-down mess for a gospel. It should be obvious, that starting another church is NOT what is needed in these Last Days. But there is some GOOD NEWS...
A 21st Century examination of what is wrong with the modern gospel that is being preached and taught in most modern christian churches has been contributed to Pass the WORD.
It is entitled:
Is Our Gospel the Original Gospel?

This report offers a challenging and fresh perspective on the origin of the counterfeit Christian gospel, — what has been removed from the original — and what has been added — and who exactly is behind the changes, — and why...

**Archive Note from Pass the WORD: As of early 2020, The Last Days Ministries website is still maintaining
a modified/edited copy of the Keith Green article mentioned above.
Look under: Last Days Ministries > Keith Green > Writings or Articles
Back to: Gospel ReDiscovery Index